New Handheld Extendable Wireless Mini Selfie Stick Rechargeable Bluetooth Monopod Selfie Sticks for Android Cell Phone Camera
1, Product details:
Luxury Mini Bluetooth Handheld Self-portrait Monopod For Smartphone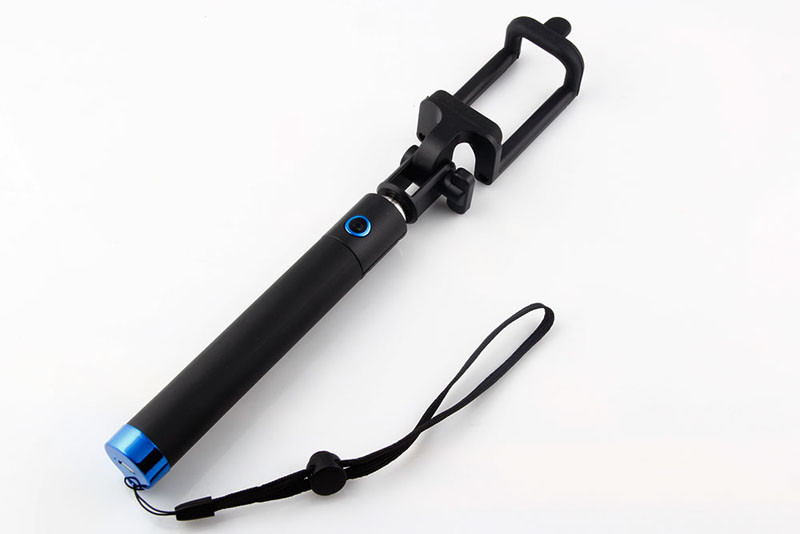 2, Feature:
100% Brand New and High quality

Handheld wireless bluetooth mobile phone self monopod

Works via bluetooth

Selfies are more than just a trend. There may be times you'd find yourself in an amazing place or situation and there's no one else to take a photo of you in it. Take snapshots of these memories with you in it with these Mobile Selfie Accessories

Perfect for those who travel especially on their own, these Mobile Selfie Accessories lets you take these selfie photos with ease

You may also use these accessories in video diaries or blogs, when you're hiking or camping, weddings, parties, the beach, concerts, aerial photos, sports events and so much more

The best part is great handy device for taking photos anywhere without asking another person, you may take group photos with all of your friends-no one really has to miss the shot because he had to be the one to take the photo. You could all be in it with these Mobile Selfie accessories

Non-slip soft Rubber handle

Quick spin knob for fast and secure mounting

Unique ball-head for easy adjustment to any angle

Lightweight, portable, easy to carry
Specifications:
Material: Aluminum Alloy

Length of extension: 235-1005mm

Battery capacity: 45mAH

Charging voltage: 5v

Charging time: 1 hour

Standby time: ≥100 hours

Autodyne frequency: ≥500 times

Main function: autodyne by wireless mobile phone

Non-slip silicone handle, durable metal shaft, stereo non-slip pad

For above android 3.0 or above ios 4.0 system

Unique ball head allows you to adjust the angle of your smartphone or camera with 180 degrees

Fashion, lightweight and convenient to carry
3, Instruction:
Full charging time: 1 hour (If the switch is turned on self frame no blue flash which means that no power please charge will light up when charging the red light will automatically power off after full)

Pairing: Mobile phone and monopod IOS system: open the "Setting"→ Bluetooth→turn on monopod →Searching autodyne system "kjstar"→enter the system →complete Pairing

Android system: open the " Setting"→ Bluetooth→Scanning→turn on mono-pod→Searching autodyne system "kjstar"→enter the system →complete Pairing

Note: Due to the difference between different monitors, the picture may not reflect the actual color of the item. Please understand, Thank you.
4, Package Included:
1x Extendable Handheld Bluetooth Selfie Stick Monopod For IOS Android (The Smartphone no include)

1x USB Charging Cable (about 30cm)
Universal Luxury mini Selfie Stick Monopod for Iphone samsung Android IOS Wired Palo Selfie Groove Camera Para Hot-sale Selfie Sticks Gifts 15-50cm Handheld Extendable Self Portrait Stick Tripod Monopod Stick For iPhone & 4.2 Android Phone Malloom Palo selfie monopod camera Mini pau de selfie universal Extendable Handheld Fold Holder perche selfie stick monopod Feitong New 14-60cm Mini Extendable Sponge Handheld Fold Self-portrait Selfie Stick Holder Monopod For Smartphone Free Shipping Brand New Super Mini 2015 Nova Extensivel Self Selfie Stick Monopod Cable Holder for iPhone SE Android smartphone monopod mirror Hot 22-100cm Selfie Stick Portable and Extendable Stick Monopod Self Artifact Handheld for iPhone Android SmartPhone Self-Pole Handheld Extendable selfie stick for iPhone 6 6s Plus 5 5s For Samsung Galaxy S4 S5 monopod Mini Self-Pole Tripod Monopod self Mini Portable Extendable Selfie Pole Mobile Phones Monopod Stick Tripod for ios Android System without bluetooth
USD 3.09-3.23/pieceUSD 0.67-2.66/pieceUSD 0.67-2.16/pieceUSD 0.69-3.30/pieceUSD 0.65-3.20/pieceUSD 0.80-2.67/pieceUSD 2.67-2.89/pieceUSD 4.54-4.62/piece